A stroll through the garden of paradise is no longer impossible. Along the seashore under the sun, the indented coastline spreads out for many kilometres alongside the blue waters of the sea, into a secret garden of pleasing scents and lush vegetation. An artist would strive to find suitable colours to capture on canvas the countless shades of nature, the magnificent depths of the sea along sandy or rocky beaches and the patterns the sea has sculpted on the rocks and even the movement of the wind through the trees. Choose your favourite colours and paint your holidays in Halkidiki, like you have always dreamed of.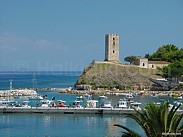 The enchanting peninsula of Halkidiki, reminiscent of Poseidon's trident, is located south of Thessaloniki and consists of three smaller peninsulas; Kassandra, Sithonia and Athos. The capital of Halkidiki,Poligiros, can be reached by road, while the nearest airport is the Thessaloniki International Airport - Macedonia.
Halkidiki has a variety and diversity which will satisfy even the most demanding visitors. Flavourful areas offering traditional cooking can be found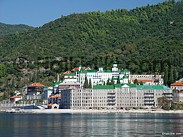 in all the architecturally magnificent villages of the area, along with idyllic bays and small islands, stunning archaeological sites and a unique cave. There is also an exciting nightlife, beaches that seem to stretch forever and turquoise waters. These are just some of the things that make up this Peninsula. Archaeologists will lose themselves into examining civilisations stone-by-stone in Olynthos, Stagira, Petralona cave, Potidaia and Toroni. Romantic visitors will aimlessly wander the vast expanses of sandy beaches and traditional alleys, while the active types will enjoy all kinds of water sports on the beaches of Halkidiki, as well as biking or trekking in Mt Holomondas.